Elk-antelope draw complete, results now available
394 permits remaining for first-come, first-served
PHOENIX – The 2010 drawing for Arizona elk and antelope hunt permit-tags has been completed, and the 118,806 applicants can now visit the Arizona Game and Fish Department's Web site at www.azgfd.gov/draw or call (602) 942-3000 to see if they have been drawn.
Be prepared to provide your department identification number, plus your birth date to access your specific draw information.
The number of applicants in 2010 experienced a slight increase of about 1,000 compared to 2009.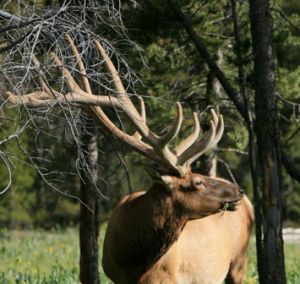 Hunt-permit tags will be mailed out to successful applicants no later than April 23. Refunds for unsuccessful applicants (minus the application fee) will be mailed out no later than April 23 to the person shown as "Applicant A" on the application form.
Any licenses requested via the draw application process, regardless of draw success, are scheduled to be mailed out prior to April 23.

Leftover tags
Game and Fish officials said there are 394 leftover big game tags (different permit types) for first-come, first-served with applications being accepted by mail-only on or after 8 a.m. April 26. The department has posted the leftover permits and their associated hunt numbers at www.azgfd.gov/draw.
There is one general antelope permit and three archery antelope permits. There are three general bull elk permits remaining (Units 4A and 5A). There are 11 general antlerless tags available, as well as 266 Limited Opportunity General Antlerless Elk Tags, plus there are 32 Limited Opportunity General Any Elk tags.
There are also 16 permits for archery-only bull elk and eight permits for archery-only antlerless elk.
If any tags remain following the process for first-come, first-served by mail only, they will become available for purchase over-the-counter at the seven Game and Fish offices across the state after 8 a.m. on May 3.
For those who qualify, there are military hunts available at Camp Navajo. For more information, contact Camp Navajo at 1-928-773-3306 or at www.campnavajo.com.

Related Articles: