Well done to Game and Fish for another awesome outreach effort ~DesertRat
Want to see live wildlife, watch your kids catch a fish, refine your archery skills, try out all types of firearms, navigate a field course, view exciting rock crawler and ATV demonstrations, see boating exhibits, or witness exciting mounted cowboy action shooters?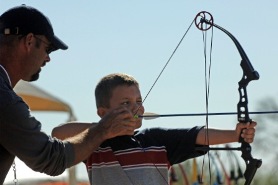 Then get ready for lots of fun and excitement at the largest hands-on outdoor exposition in Arizona on March 27-28 at the 1,650-acre Ben Avery Shooting Facility on Carefree Highway just west of I-17.
The Arizona Game and Fish Department's Outdoor Expo offers fun for the entire family. There will be a multitude of exciting outdoor activities and exhibits:
*See lots of live wildlife demonstrations from birds of prey to amazing reptiles
*Have your kids catch a fish at the huge kids fishing tank
*Try out firearms from different manufacturers in a safe, supervised shooting range setting
*Take an archery class or try out 3D archery on a walking course
*Kids can shoot .22s and air guns while learning more about firearm safety
*Get fishing tips from local tournament anglers and fishing guides at the fish demonstration tank
*Learn about safe, responsible off-highway vehicle recreation. View quads, side-by-sides, and 4x4s, plus see rock crawler, trial bike and ATV demonstrations
*Try your hand at different specialty shooting disciplines, such as cowboy action shooting, black powder, practical pistol, and steel target shooting
*See boating exhibits and learn about watercraft recreation and safety
*Make your way through a hunter education field course
*View exciting shooting competition by the cowboy mounted shooters
*Attend informative workshops on wildlife viewing, hunting, nature photography, backcountry gear and more
*Visit the Clay Target Center and learn how to shoot skeet, trap and sporting clays
*Watch hunting dog demonstrations
*Visit with more than 100 exhibitors—sportsmen's organizations, conservation groups, shooting clubs, government agencies, and commercial vendors of outdoor products and services
Trolley transportation is available throughout the Expo grounds, which are located on Carefree Highway, about ½ mile west of I-17. Just follow the signs.
Hours are 9 a.m. to 5 p.m. on Saturday, March 27 and 9 a.m. to 4 p.m. on Sunday, March 28. Admission and parking are free, but bring a little money for food and beverages or for the nominal ammunition fee if you want to try out firearms on the range.
The Gold Sponsor for this year's Outdoor Expo is the American Red Cross, Grand Canyon Chapter. Silver Sponsors are Weatherby Foundation International, U.S. Fish and Wildlife Service, White Flyer Targets, Winchester Ammunition, and Diamond Ridge Development Corporation (Diamond Ridge partner contributors include Eagle Plumbing Services, Kat CSI Construction Services, Sunshine Painting, and Valleywide Plumbing.
The Arizona Game and Fish Department is operated on a "user pay, user benefit" business model. The Outdoor Expo promotes wildlife-related and other outdoor activities to current and future customers who support the department's mission and funding through their engagement in those activities. The department receives no Arizona tax dollars, and no tax dollars are used in conducting the Expo.
For more information about the Outdoor Expo, visit www.azgfd.gov/expo.

Related Articles: