You may recall reading about my daughter's first successful javelina hunt - "The Tale of the Sunset Sow". As it turns out, my daughter is a better hunter than I am - so far! Anyway, with her javelina down, I asked Miky what she wanted to do with the meat. We had heard/read a lot of horror stories about javelina and its quality as table fare. The most common "successful" suggestions were chorizo, jalapeno cheese summer sausage, or meat sticks. Mikaela wanted chorizo, so that's what we did. Two weeks and we got a call that it was done.
A couple of weeks ago, we tried it. I must say that it was with some trepidation that I thawed a package and plopped it into the frying pan. In spite of being a lifelong hunter, I have had some game meat that I just didn't care for. For those that aren't familiar with it, chorizo is a Mexican (a slightly different variety in Spain as well) sausage that is usually packaged "loose". It is fairly spicy, and heavy on paprika and other ingredients that give it a dark red color. You can buy beef or pork chorizo in the stores here. I like it browned up and mixed with scrambled eggs. Miky likes it without eggs, but with potatoes - "con papas". On this day, we made some of each, with the intent to use it as filling for some yummy breakfast burritos.
We were amazed! This chorizo tasted as good as (Mik says better) than anything we had ever bought in the store. This isn't us trying to convince ourselves, this is the truth. It was a hit! We had the meat done at Miller's Southwest Processing here in Queen Creek. I would definitely recommend their services.
I would guess that Mik's pig weighed 40 pounds, or so - on the hoof; maybe down to 30 or so field dressed. We ended up with 15 pounds of chorizo. Mik's mom has already done a cost-analysis and pointed out that based on tags, gas, bullets, etc., this isn't "cheaper than buying it at the store". Of course, that's not the point of all this, is it?
In the package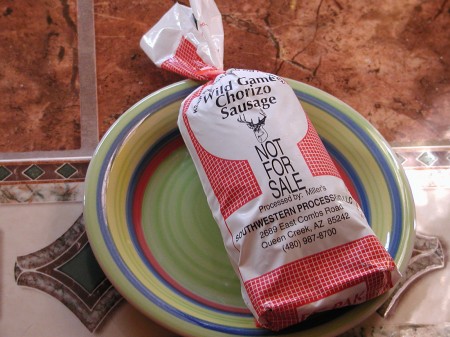 In the pan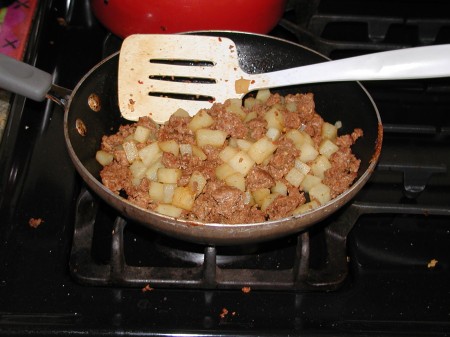 On the plate!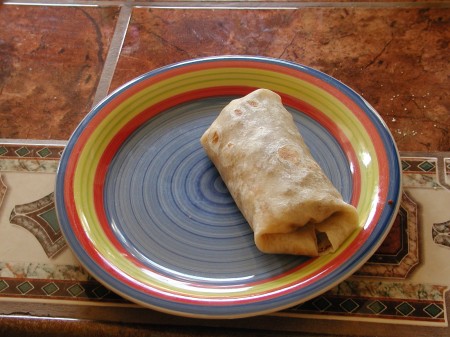 Related Articles: