Not too long ago, I made a tongue-in-cheek post featuring some ladies I encountered at the NRA Convention. Well the next day that post was linked from another site, and I received a massive amount of traffic. I beat my previous record by about 6x !
Now, I'm a bit of a country boy, and sort of naive to boot. I did notice at the convention that there was a lot of pretty women working those booths! I bet easily 50% of the booths contained at least one pretty girl. Not all of them were scantily clad and/or well-endowed. There was pretty girls in business suits too. And cowgirl gear. Little did I know, the topic of "booth babes" is a hot topic. Take a look at this debate that simmered over on a Field and Stream Blog.
I admit that I was surprised that this phenomenon hasn't died at the hands of political correctness. Sure the "gun crowd" may be male-dominated, but it's certainly not "male only". I'm a people watcher, and I watched the ladies in the crowd interacting with the "booth babes". I didn't see any mad housewives, didn't see girlfriends hitting their beaus; I didn't see Grandmas tut-tutting and rolling their eyes. For the most part, the booth ladies I talked to were polite, funny, and fairly well-versed in the products they were pitching. The crowd didn't seem offended in the least. They seemed to take it in stride.
So what do you think? Should we be past the days when pretty girls were needed to hawk products? I know you probably like them - but do we really need them?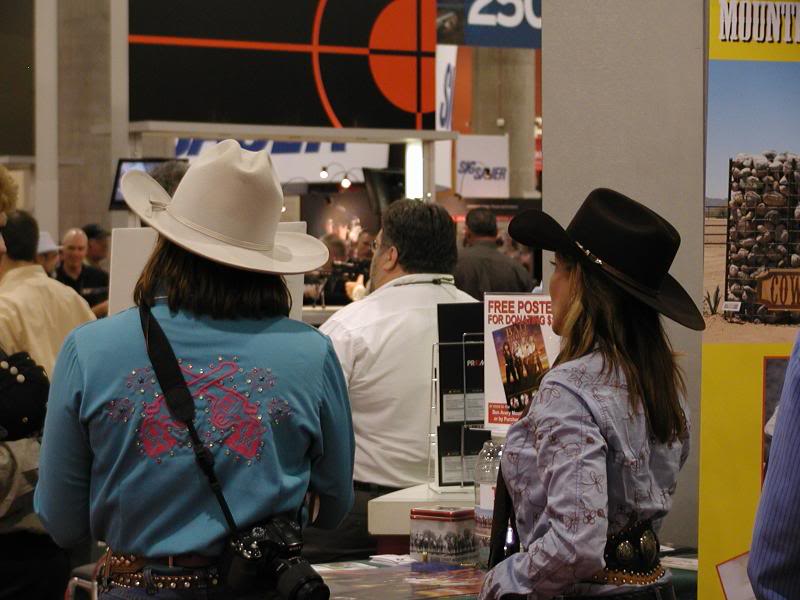 Related Articles: