| | |
| --- | --- |
| Becoming a Member of Arizona Hunting Today | |
Note: Please read privacy statement at the bottom of this page!
To become an Arizona Hunting Today member, please fill out the form below. Some of the benefits as a member are:

- Custom Arizona Hunting Today Hunt Club card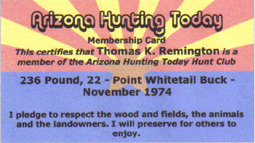 - Discounts at participating sporting goods retail stores, suppliers, guides and outfitters. (Coming Soon!)
- Continued free access to stories, photos, tips etc
- Newsletter (Coming Soon!)
- Discount Coupons on Outdoor Gear that come to us for the Outpost

Fill out the form as accurately as you can. If anything changes after you receive your card, all you have to do is re-submit your information at this page. Check the box that says you are updating membership information and PLEASE fill out the form in its entirety, as you would like your new card to appear.
If you provide us with info on the game you have bagged, we will print that on your ID Card. Space is limited so please prioritize the information you would like included.

We do not verify but if you would like to include Boone & Crockett Info etc. we will gladly print that for you too.
Arizona Hunting Today - Privacy Statement
When you submit your information for membership at Arizona Hunting Today, any and all information is used solely by us and its affiliate sites contained within U.S. Hunting Today.
Your email address and any other information will not be shared with or sold to any other entity or email gathering business.
As a member, you are placed on the Arizona Hunting Today mailing list both electronic and land. You may remove yourself from our emailing list by following the directions on any and all emails you may receive. To be removed from a regular mailing list email us at [email protected] with your name and address and we will remove you as soon as possible.
Removing yourself from any or all of our mailing lists does NOT affect your status of eligibility to win free prizes. All winners will be notified by email and it is the sole responsibility of the member to keep accurate and up-to-date membership information.
Concerns or questions concerning our privacy policies please direct them to [email protected]