Remington® set to introduce HyperSonic Steel™
The World's Fastest Waterfowl Shotshell. Featuring the New Xelerator® Wad Technology
Madison, NC – Few things are more challenging than hitting fast moving, high flying waterfowl. To meet this challenge, Remington is proud to introduce the fastest velocity, highest downrange pattern energies ever produced in the history of steel waterfowl loads; the revolutionary new HyperSonic Steel™. To put it simply, waterfowl hunters now have the fastest, hardest-hitting, steel shot shell in the world, resulting in shorter leads to help hunters be more successful.
At the heart of the new HyperSonic Steel™ load is the patent pending Xelerator® Wad. The newly designed wad features a unique Ignition Chamber which allows higher velocity with safe pressures.
How does the Xelerator® Wad work? The primer ignites a small portion of the powder charge captured in the "Ignition Chamber", this captive charge accelerates the wad and payload forward until the remainder of the powder charge is ignited. The increased volume behind the wad allows for the remainder of the propellant to burn, driving the shot to 1700 fps without causing excessive pressure – all in just a fraction of a millisecond.
With the HyperSonic Steel™ producing velocities at 1700fps, the lead on flying ducks is shortened by 8-inches at 40 yards which gives the hunter a higher success rate and less crippling with fewer shots. Now waterfowl hunters have a load with the highest steel pattern energy ever produced; up to 16% greater energy than current steel high velocity loads, with longer-range lethality in 10 load choices. " At 1700 fps HyperSonic Steel™ is the most innovative and exciting shotshell developed in decades. It will change the way that we hunt waterfowl". Kevin Cross, Remington Research Engineer - Ammunition.
Features for the New HyperSonic Steel Waterfowl Loads
• Patent Pending Xelerator Ignition Chamber Technology
o Allows Highest Velocity with Safe Pressures
• The "World's FASTEST" Waterfowl Loads Available
• Highest Steel Pattern Energy, 16% Greater Energy
• Longer-Range Lethality
• Industry-Leading 1700 fps Velocity – All Loads
o Shortens Leads by 11% (8 Inches at 40 Yards) About a Duck's Body Length
• Higher Success Rate – Fewer Shots Required
• For the same shot size- Same On-Game Lead in Every Load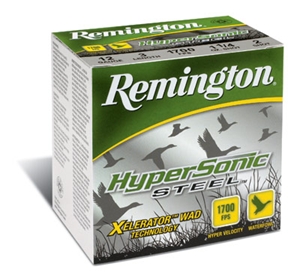 Related Articles: